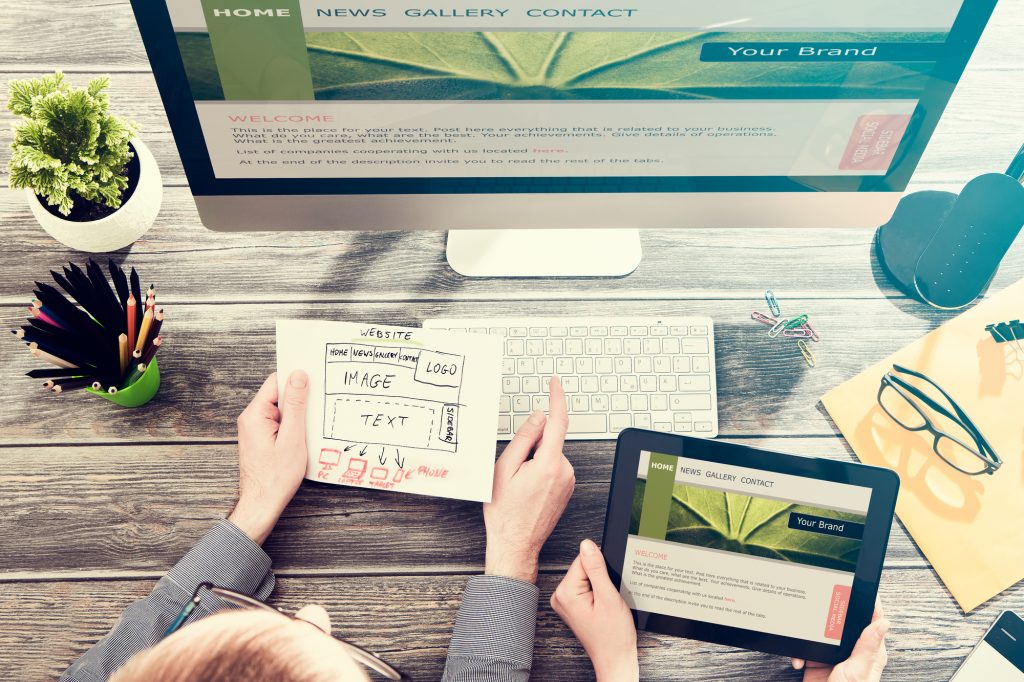 Flat design websites have been increasingly popular over the past few years.
Websites are a critical tool for businesses, as they convey what a brand is about. They can even have a greater impact on conversion rates.
For a painting business that you could turn your website into a tremendous asset for your business because you have a website that creates a positive impression and converts into paying clients.
Are you interested to learn how you can incorporate flat website design into your business?
Keep reading to learn more and discover inspiring examples.
What is Flat Website Design?
Flat website design sites are often confused with minimalist sites. While they share a lot of similar characteristics, they have their differences.
The main features of flat design websites are that they have everything in 2D. There are no shadows to textures, images, text, blocks are all flat. Flat design can also rely on illustrations a little more than images to get the point across.
Minimalism uses a lot of whitespace to draw attention to certain elements of the site. With minimalist sites, these elements can be in either 2D or 3D. It depends on how you want to position your site. Companies like Apple will use 3D to add style and depth to the company's website.
Flat design is all about the user experience. That's why you'll see it written as Flat UX. It means flat user experience.
What flat design websites have in common is that the navigation on the site is easy to use. That translates well into a simple user experience across devices.
Flat designs also employ typography in a way that makes the sites more readable, creating a better user experience.
The simplicity and better user experience are the top reasons why 89% of web designers prefer flat design websites. Businesses love the end result because they have better conversion rates.
Flat Design Website Examples
Now you have an idea as to what flat design is, you can see how they look for yourself. Yes, they will look like normal websites. No fluff, just simple designs without the bells and whistles. These websites will serve as an inspiration as you start the process to build your own flat design website.
1. Windows 8
When Microsoft introduced a flat design for its Windows products, there was a bit of an uproar. People weren't ready for the boxy look of Windows tiles.
That is one of the finest examples of flat website design. It's simple, keeps the user experience streamlined and the color tiles stand out.
2. Artzine
Artzine uses symmetrical tiles on the site in a way that's similar to Windows. There are a few pages to check out on the site, but the main invitation is to look at artists' works.
It's a unique blend of minimalist and flat designs. There are bold tiles that stand out among the whitespace.
3. Lorenzo Verzini
Leave it to an art director to truly embrace flat design. This site's use of bold colors and imagery gives visitors a chance to browse his portfolio of work and discover how he uses design to tie together the intellectual with the visual.
4. Playground Inc
Playground's site is build to draw attention to their case study. That's the main action people should take. Once they do that, they can scroll down the home page, learn about the work that they do and their design philosophy.
5. Build in Amsterdam
Build in Amsterdam has a mid-century modern feel to it. As a painter, you'll want to observe how the colors seem to pop on the screen.
The navigation is somewhat hidden, but that's intentional. They want users to be focused on the work that they have done for past clients. You can then learn more about the agency and then contact them.
6. Matcha Content Marketing
The main reason why Matcha's site is on this list is because of the use of illustrations. It's busier than most flat design websites, but it's worth mentioning because the typography blends serif and sans serif fonts.
The home page also drives two actions for people to take – they can either schedule a demo or learn more about their services.
7. Etch Software
Again, illustrations take center stage with Etch Software's site. The home page uses bright colors that just pop up to greet you. The illustration does all of the talking as to who they are.
That's followed by two, and only two navigation options. The first is to meet the team. The second is the see their work. That's it.
How to Create a Flat Website for Your Painting Business
Creating a flat website design isn't rocket science. Have you ever heard of KISS? Keep it simple, stupid.
That's the essence of flat website design. As a painting business, you'll want to use bold color choices that stand out against mostly white backgrounds.
The navigation should be kept to a handful of pages, but no more than that. To increase conversion rates of your website, you'll want to streamline the customer's journey on your site and drive them towards one particular action. That action could be to sign up to your newsletter for a discount or to schedule a consolation or quote.
Are you at a loss with website design? Consider outsourcing to professional web designers that specialize in building painting contractors websites.
Flat Design Websites are the Future 
There are many design styles to choose from when you're building or redesigning a site for your painting business. The websites presented here are all elegant and leave visitors feeling that this is a business worth talking to.
Flat design websites are appealing because they're clean, simple designs that work well across devices. As more people are on mobile devices, that will only increase your conversion rates.
When you're done with your site, be sure to submit it so others can be inspired by your designs.