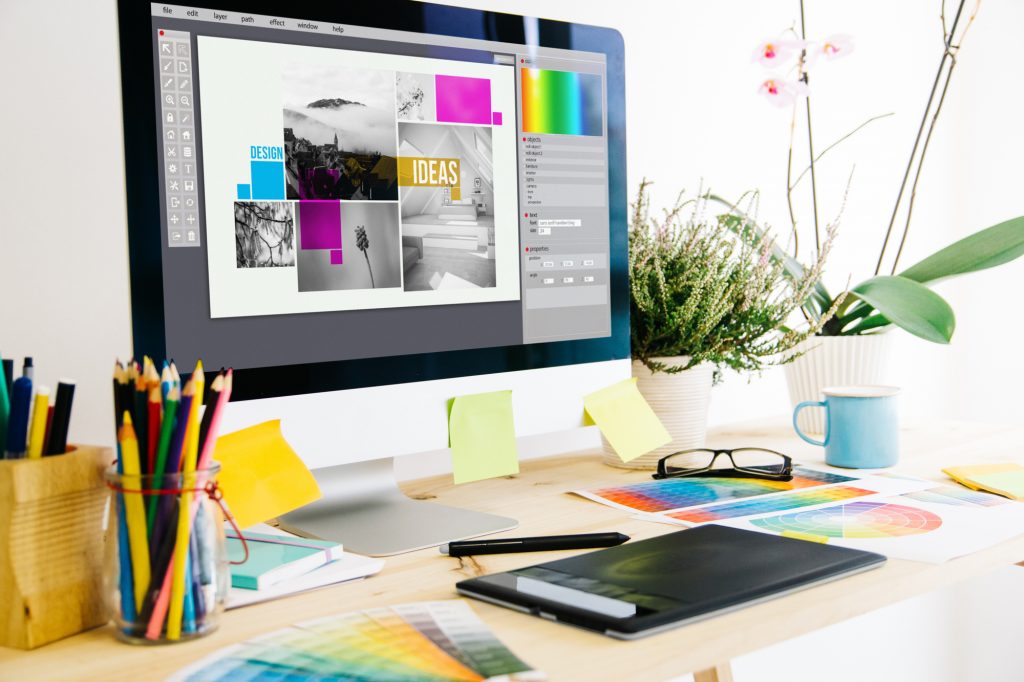 Do you eat, sleep and breath digital marketing?
If so, you're well aware that the world of digital marketing is constantly evolving. As technology progresses and more of the world becomes connected online, digital marketing continues to grow in importance.
That being said, it's essential to stay current with digital marketing trends to ensure that your efforts are worthwhile. After all, digital marketing practices that were proven effective a few short years ago may no longer be relevant today.
If you're invested in the world of digital marketing, you're going to want to read this. We're documenting nine important design trends 2019 that are going to be dominant in the current year.
1. Clean Design
Today, the largest and most successful companies in the world are embracing the world of simplicity.
If you visit any major website, you'll see a flat color palette, limited text and a lack of overbearing imagery. When imagery is utilized, it's often one to three single images that are clean and comforting to look at.
Clean design provides the impression that your business is contemporary as well as active. When a website is outdated and busy, consumers are more likely to assume that the business is no longer relevant or even active.
Remember, your website is essential the face behind your business. It's crucial that it speaks to your brand and is visually appealing to visitors.
2. Video Inclusion
In recent years, video content has become king in the digital marketing world.
Whether your business is using video to showcase your service or explain your products, there's no denying that it's incredibly effective. While video may have slowed web pages in the past, the right videos today are highly efficient.
This means that you can display videos on your web page without having to risk a positive user experience.
3. Content Marketing
While there's no denying that content marketing had a place in 2018, it's going to be even more dominant in 2019.
The best part about content marketing is that it can be applied to each and every business today. Whether it's a dental clinic, a clothing business, or a real estate brokerage, content marketing is an effective way to increase the traffic to your website and connect with your audience.
One of the main differences between 2018 and 2019 is in how content marketing will be conducted. Businesses today are more likely to contract professional marketing companies or individuals that specialize in content marketing. These are individuals that can focus on SEO and ensure that the content is reaching the intended audience.
Looking for ideas for your content marketing? You should read more here to discover what you can do to make your content marketing more exciting.
4. Flat Design
This year, we are embracing all that is the flat design.
In terms of design style, flat design fits within the minimalistic and sophisticated sense. Not only will a flat design result in a more crisp and clean aesthetic, but it also aids in clarity and provides for a more positive user experience.
Because so many websites are opting for a vertical and single page design, it's important to ensure that the website flows naturally. To do so, many websites are choosing to utilize sharp and minimal designs.
5. Virtual Reality for Products
Let's consider that Americans today make 51 percent of shopping decisions online. To further encourage online shopping, websites are doing everything they can to make purchasing products or services even easier.
This is where virtual reality has come into play for many of the top online companies today. Virtual reality allows customers the opportunity to see and experience a product or service beforehand.
For example, many real estate brokerages today are utilizing virtual reality in their services. This allows their clients to preview houses and virtually experience the house all from the comfort of their own home.
6. Chatbots
If you're not yet using a chatbot, you're going to want to make this a point of focus for 2019.
Chatbots are a simple way to engage with website visitors on a 24/7 basis. They are designed to interact with your customers and provide instant feedback and answers.
This helps to give the impression to your customers that your business is always available. Day or night, these chatbots will engage with your customers and open a line of communication.
7. Faster Loading Time
Let's face it, those using the internet today expect fast and efficient service.
When a web page takes longer than usual to load, you can expect the majority of visitors to exit that web page. From here, they are more likely to transition to a competing web page that offers a better user experience.
As we progress into 2019, you're going to notice that web pages are embracing a more simple design. While this is visually appealing, it's also to ensure that the web page loads effectively.
To ensure that you are doing this, be sure to embrace simply layouts, opt for light colors, limit visuals, and minimize additional pages.
8. Single Page Layouts
To ensure that your page is as clean and minimal as possible, many businesses are opting for a single-page design.
This allows the user to vertically scroll through the web page in a simplistic manner. This also means that the user is not having to load another web page in order to be directed to a different area of the web page. All of the information on the web page is simply found on one vertical page.
9. Testimonials
Today, consumers largely rely on testimonials to help them develop faith in a product or service.
In a world where there are so many businesses competing for the consumer's attention, testimonials are the best way to differentiate your business. When a potential customer has the ability to read about other customer's experiences, they feel more confident in investing in your product or service.
For many, this is the added reassurance that a potential customer needs before become an official customer.
Be sure to display a number of testimonials on your web page. While text on websites should be limited, this is an exceptionally important text that is worthy of display.
Must Know Design Trends 2019
Today, more than 50 percent of the globe is online.
While this number may first appear low, this is the first time in the world that the majority of the world has been connected online.
As the world becomes more connected, the world of digital marketing becomes even more important. This is why digital marketing has continued to grow each and every year.
If your business has yet to utilize digital marketing to your benefit, it's time to start. These design trends 2019 are certainly a great place to start and ensure that your business is connected to as many people as possible.
Are you looking for some design inspiration for your website today? If so, be sure to browse our contemporary templates!