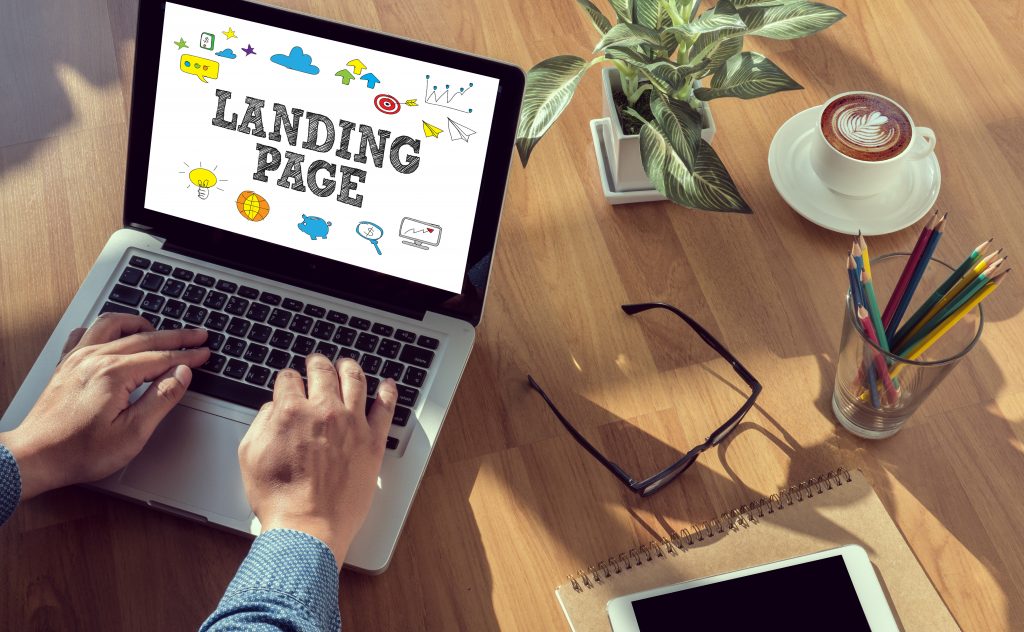 Your landing page design is a popularity contest. The average person takes only 1/10th of a second to decide whether they like a web page or not.
It's important to learn how to create a landing page that actually makes people stay on your site. The biggest benefit of a landing page is that it gets you connected with people who are likely to buy from you.
There are several key elements to creating a landing page that makes a great impression. Check out this guide to creating a landing page that generates sales.
How to Create a Landing Page
A landing page can't be a one-stop shop for everything your business needs. If you're like most businesses, you have more than one product or service to offer. Set a goal for your landing page before getting started.
For some companies, more email addresses are enough to call a marketing campaign a success. Others need tangible sales results before the campaign is considered effective. Tailor your strategy around simple goals to keep your message on target.
Do Market Research
Who is your target customer? Market research is a good way to gather important information that will help you design a great web experience. You may think you know what customers want, but using real-world examples confirms what works and what doesn't.
The best part about market research is that you don't need a large budget to get started. Use free white paper studies and infographics about your target market to get a better understanding of their mindset.
Think beyond what customers say and instead study their behavior.  What do your successful competitors say on web pages that lead to traffic? Learn by example to make sure your message connects with the target audience.
Add a Touch of Personality
You are more likely to remember an informal conversation with another person who makes you laugh than a formal conversation with someone who gives you important data.  The data might be life-changing, but people like to feel connected more than they like to be taught.
An effective landing page speaks to visitors in a tone that matches their personality. Think of how formal or informal your target audience is likely to speak in everyday conversation. Try to relay the same style of conversation in your message without losing professionalism.
Being too casual can have an adverse effect. Keep any jokes or slang in good taste to avoid insulting your audience or appearing obnoxious. The age of the reader will impact your delivery so make sure your market research stage includes this data.
Clean Up Your Design
A bad landing page confuses readers with too many messages and an unclear call to action. There are pages on your site suited to explaining every product detail. The landing page is not one of them.
A clean page design keeps visitors from getting distracted by too many images or information. The focal point of the page has to be the call to action. One or two clicks should get them to the intended destination.
A basic landing page should include a title, sign up form and an image as the central theme. Always provide a clear exit from the landing page in case customers aren't interested.
Customers who end up stuck on a sales page with no way to navigate away will likely move on to a competitors website. If you aren't sure what makes a clean page design, hire professional help like this company to set up your landing page for you.
Be Specific
Some companies have products that span a range of categories and services. Narrow down the overall impact of your product instead of attempting to list what you offer in full. Find a common theme among all services and be clear about how signing up will make the customer successful.
Limit your pitch to less than a couple of sentences or questions. You don't want your prospects having to think too hard before making a decision.
Call to Action
A contact form is a common call to action for customers. It's important to place this feature in a central location on your landing page. Now is not the time to get too creative.
Both the contact form and button to submit must be obvious to the reader. Make sure the button's color and style is easily visible to the reader. When they click the button, visitors should know where they are headed next.
Some landing pages lead to a longer form while others end with the click of a button. Be clear about the commitment the customer is making once they sign up. If you need them to fill out more details in order to get an estimate, indicate that more details will be asked on the following page.
Add Media
Videos present a challenge for landing pages because they can't be skimmed like text. However, they help keep a clean and concise page design.
Keep the video short and sweet. A landing page is just a stepping stone on the way to your website. Rarely is a visitor coming to your site in search of marketing videos, so keep the message tailored to benefits followed by the action they should take.
A landing page video should be no more than two minutes with plenty of colors and visuals to keep viewers interest. The moving colors and images are second only to having an in-person conversation. Hire a professional video crew to make sure your video is top quality and represents your brand well.
Use Testimonials
Instead of bragging about your product, let your customers do the selling for you.
Whether written or video, a testimonial adds credibility to any claims made on your landing page. Adding reviews on landing pages boosts conversions by more than 35 percent.
Social media is a great place to start when collecting reviews. Post requests for feedback on your timeline. Video testimonials require customers to come on-site. This is a better solution for local customers than web-based businesses.
Landing Pages that Convert
Understanding how to create a landing page is an important step in building an effective web presence. Your landing page isn't a pretty brochure for your services, it is an interactive tool for generating new business.
Always use high-quality images and video to reflect the quality of work in your business. Competitors are plenty and the best way to stand out is to show your best work on your landing page.
For more information on best practices in web design, visit our website.